Native Medicinal Plants in Western North Carolina -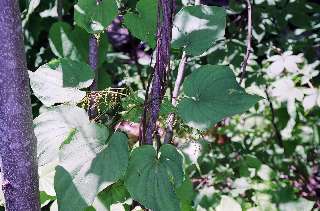 Many native medicinal plants in western North Carolina and throughout North America are on the endangered list because of indiscriminate harvesting. This webpage is for informational purposes and is not intended to be a guideline for harvesting and wildcrafting of medicinal herbs. Please be considerate of Mother Earth and DO NOT harvest plants that are on the endangered list. Go to your local health food store and purchase herbs that have been sustainably harvested. The following is a list containing plants that are either endangered - at risk of extinction in their native surroundings - or to watch - plants that could become endangered if over-harvesting continues.....
Endangered List
American Ginseng
- Panax quinquefolius
Black Cohosh -
Actaea racemosa
(Cimicifuga)
Bloodroot
- Sanguinaria canadensis
Blue Cohosh
- Caulophyllum thalictroides
Echinacea
- Echinacea spp.
Eyebright -
Euphrasia spp.
False Unicorn Root
- Chamaelirium luteum
Goldenseal
- Hydrastis canadensis
Lady's Slipper Orchid
- Cypripedium spp.
Lomatium
- Lomatium dissectum
Osha
- Ligusticum porteri, L. spp.
Peyote
- Lophophora williamsii
Slippery Elm
- Ulmus rubra
Trillium, Beth Root
-Trillium spp.
True Unicorn
- Aletris farinosa
Venus' Fly Trap
- Dionaea muscipula
Virginina Snakeroot
- Aristolochia serpentaria
Wild Yam
- Dioscorea villosa, D. spp.
To Watch List
Butterfly Weed -
Asclepias tuberosa
Cascara Sagrada -
Frangula purshiana (Rhamnus)
Chaparro
- Casatela emoryi
Elephant Tree
- Bursera microphylla
Kava Kava
- Piper methysticum (Hawaii only)
Maidenhair Fern
- Adiantum pendatum
Mayapple
- Podophyllum peltatum
Oregon Grape
- Mahonia spp.
Partridge Berry
- Mitchella repens
Pink Root
- Spigelia marilandica
Pipsissewa
- Chimaphila umbellata
Spikenard
- Aralia racemosa, A. californica
Stone Root -
Collinsonia canadensis
Stream Orchid -
Epipactis gigantea
Turkey Corn -
Dicentra canadensis
White Sage
- Salvia apiana
Wild Indigo -
Baptisia tinctoria
Yerba Mansa
- Anemopsis californica